Also being released today are two special clips from the Dream Boys 2006 concert segment. Kis-my-ft with Sennen no Love Song and ABC with Beat Mind will rock your socks off!
Now on to the goodies! (and please remember comments are very appreciated...)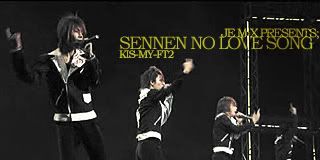 Sennen no Love Song (Dream Boys 06) MU
Sennen no Love Song (Dream Boys 06) MF
ABC - Beat Mind Shareonall
ABC - Beat Mind MF
Janiben pt1 MU
Janiben pt2 MU
Janiben pt3 MU
Janiben .001 MF
Janiben .002 MF
Janiben .003 MF
Janiben .001 Shareonall
Janiben .002 Shareonall
Janiben .003 Shareonall
Here we are again with another treat, this time the Janiben Okinawa special, part ONE. Watch Eito as they frolic and fish in Okinawa's beautiful blue seas. Also included are clips from their 47 prefecture tour and a special segment of Juniben.
Current Mood:

accomplished