Long time no see.
I know it's been two months since our last release but things are getting hectic around here. First we went on summer vacation and now between finding new jobs, going through life altering changes and even getting ready to tie the knot, time somehow flew by. But rest assured, even in the midst of all this we won't stop subbing XD
So here are today's releases.
First we have episode 5 of Ike Ike Ikemen. Let me warn you though, the raw has major issues so there is a noticeable lag between the sound and the video. We did the best we could but alas we didn't manage to fix it. If anyone has a better raw by any chance please drop us a message and we would gladly release a new version.
For now enjoy Yoko, Hina and Subaru trying to fight ghosts in this episode.
MU
pt1
,
pt2
MF
pt1
,
pt2
Sendspace
pt1
,
pt2
The second part of today's release has to do with one of our favourite characters here in JEMix, Katsuken. As part of the 2009 revival fest he has been brought back to help IKKO and Joyman pimp their latest releases.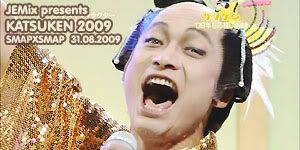 MU
,
MF
,
Sendspace
Enjoy and see you again for our next release *^_^*
p.s. If you want to check up on our project status and see what we're up to, feel free to follow us on twitter (
http://twitter.com/JEMix_fansubs
)
Hello everyone (^_^)/
Current Mood:

pleased